Why Choose Visbiome®?
Visbiome® is a high potency, multi-strain, broad‑spectrum probiotic which contains the De Simone formulation. Visbiome's formulation has been the subject of more than 80 peer-reviewed, human clinical trials proving its efficacy. Visbiome is a medical food for the dietary management of dysbiosis associated with Irritable Bowel Syndrome (IBS), Antibiotic-Associated Diarrhea (AAD), Ulcerative Colitis (UC), and other conditions. Visbiome is also handled with the best care, it is shipped and stored cold with a temperature monitor card to guarantee potency.
Medical Food
For the dietary management
of dysbiosis associated with IBS, AAD and UC
high potency
Multi-strain and broad spectrum formulation
extensive studies
More than 80 human peer‑reviewed clinical trials
the best care
Shipped and stored cold, temperature monitored, potency guaranteed
the difference
is clear.
Cold Chain Guaranteed
Temperature monitored during shipping
Environmentally Friendly
Company committed with eco friendly initiatives and carbon offset shipments
Money Back Guarantee
If customer is not satisfied with the product
VSL#3®*
After June 2016
Get Great GI Relief with our
money back guarantee**
We stand behind our product, our science and our cold chain shipping. That's why we are proud to offer our customers a money back guarantee if they are not satisfied with the product. Learn more
what our customers are saying:
Great Product for stomach.
Good product helped my gut back on track. I'd recommend even if it's just to keep a good balance of gut bacteria.
Visbiome helped post- infectious IBS
GI doctor recommended Visbiome for classic case of post-infectious irritable bowel syndrome. Two capsules each AM. Digestive issues better after two weeks and incrementally better each day!
Visbiome - The best
This product is one that we consider necessary in our household. We all function better with it.
A Probiotic
This product probiotic has totally limited my bloating problem. No other probiotic has ever done that.
works well!
I starting taking Visbiome about a year ago and my digestion has improved so much! Quality customer service and prompt shipping , always arrives cold in recyclable packaging.
Quality, shipping, packaging
Visbiome is the highest quality. I take it on the recommendation of my Gastroenteroligist. I've had a "j-pouch since 1986. I also appreciate the steps the company has taken create packaging that is more recyclable and environmentally friendly while still protecting its product.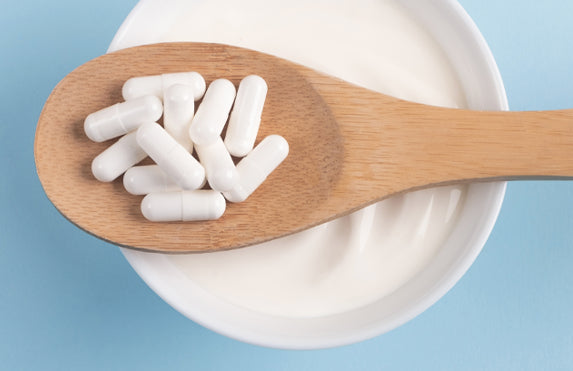 Visbiome® is Lactose‑Free, low FODMAP certified and made in the USA.
Visbiome® is Gluten‑Free, Non‑GMO and Vegetarian.
order Now
The De Simone Formulation, now found in Visbiome®, has been the subject of extensive clinical research which cannot be attributed to other probiotics.
VISBIOME® contains the same formulation found in VSL#3®*
produced before January 31, 2016 (the "De Simone Formulation").
PRIOR TO 2016
VSL Pharmaceuticals and its distributors sold Professor Claudio De Simone's 8-strain, high-potency probiotic under the name VSL#3®*. When De Simone terminated his relationship, his former partners subsequently began selling an imitation of the probiotic, after trying—and failing—to reverse-engineer the proprietary formulation.
AFTER JUNE 2016
The VSL#3®* formulation was changed, and the sellers were ordered by a U.S. court to stop any claims that state or suggest a false continuity between the new VSL#3®* and the original De Simone Formulation
TODAY
Subject of over 80 clinical studies
8 Cultivated Bacteria Strains